King René's Tournament Book
A Modern English Translation
By Elizabeth Bennett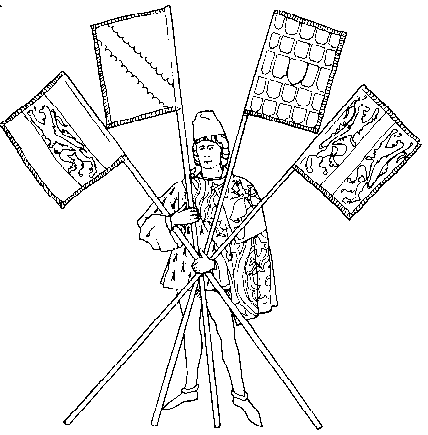 This web site presents a modern English translation of a medieval French book on how to hold a tournament. The text, known as the traictié de la forme et devis d'ung tournoy, was written circa 1460 by René of Anjou, King of Jerusalem and Sicily. The tournament book describes a style of tournament which René says he has adapted from the ancient customs of France and other countries. Although René describes this tournament in vivid detail, we do not know if such a tournament was ever held in the fifteenth century.
This site presents an HTML-coded version of the translation. For an ASCII text version, download the file Traduction anglaise.txt (about 70K).
---
Contents
---
---
---
This page presents an HTML-coded version of the nineteenth-century edition of the original medieval French text of the tournament book. For more information about the sources of this edition, see About this Translation.
---
This page presents a "facing page" side-by-side comparison of the medieval French text and the English translation. To view this page, your browser must support frames.
---
The surviving manuscripts of King René's tournament book are beautifully illuminated. In the manuscripts, there is an illumination associated with each paragraph labeled [picture caption] in this text. This presentation features original line drawings based on some of the illuminations. Please note that these graphics are not in the public domain; if you would like to re-use them in your own web pages (or elsewhere), please contact the artist at the address below to request permission.
The Bibliotheque Nationale in France, which owns several copies of the tournament book (including the copy made for King René himself), has not yet digitized any of the images for viewing on the Web. However, the BN has made some other images of fifteenth-century tournaments available.
The illuminations have been reproduced in several books, including a facsimile edition. For more information, see "Notes" in About this Translation.
---
---
Comments on this presentation are welcome. Elizabeth Bennett
ezb@princeton.edu
Last revised: September 4, 1998
Copyright Elizabeth Bennett 1997
Illustrations copyright Will McLean 1997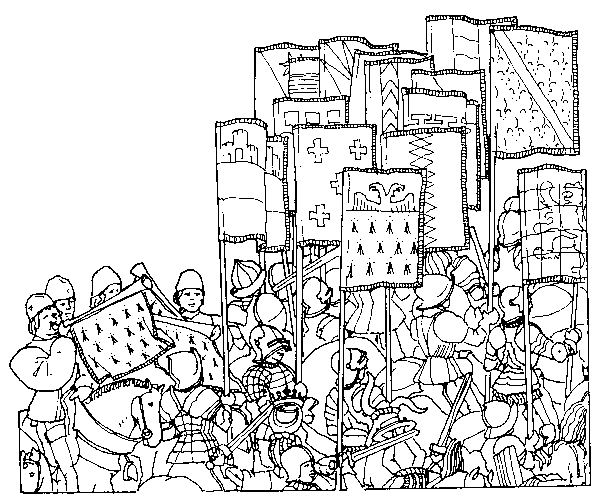 ---
Site original : http://www.princeton.edu/~ezb/index.html

---
Retour
---